MegaGen Implant Receives 'Presidential Award for Quality Management'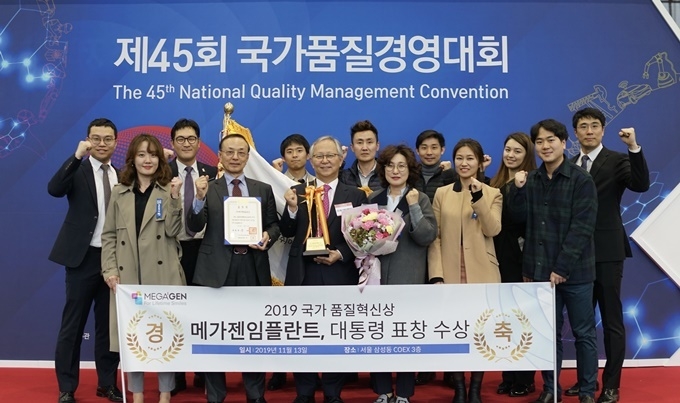 MegaGen Implant (CEO Dr. KwangBum Park, hereinafter referred to as MegaGen) was honored with the Presidential Citation for Quality Competitiveness Innovation Award at the National Quality Innovation Awards at the 45th National Quality Management Competition held at COEX on the 13th.
Since 1975, the National Quality Management Competition has identified and rewarded excellent organizations that greatly contributed to improving the competitiveness of the national industry through innovation management activities. MegaGen's Presidential Award for Quality Competitiveness Innovation is the highest authority award awarded to companies with outstanding achievements in quality management.
MegaGen said the background of the Presidential Citation Award, "We have established a quality management system to innovate our quality competitiveness and have improved the quality competitiveness of our products and realized customer satisfaction through continuous process improvement." "We have complied with the medical device legislation to meet the legal requirements of medical devices. Of course, the quality management activities, such as statistical process control (SPC) to identify process status, process improvement using statistical analysis, and manufacturing process management to prevent defects, were highly evaluated. "
MegaGen, which is focusing on quality improvement to obtain TRUST QUALITY certification from the Clean Implant Foundation in Germany, is known as the No. 1 sales company in Europe with strict quality control. In addition, more than 68% of the total production is recognized for its exports, and annually, the international symposium, numerous domestic and international academic conferences, and clinical seminars are promoting high-quality implants around the world.
MegaGen officials said, "Let's make a company that can be predicted and made as planned." Five major keywords △ On-Time △ Networking & Communication △ Warm & Reliable Touch △ Rightness △ Simplicity, we are doing business through the rapid sharing between the members of the organization and the specification of the behavior. "
Dr. KwangBum Park, CEO of the MegaGen said, "We have earned this honor by putting our top priority on stabilizing and implementing the quality management system under the quality policy of 'The best quality is the best competitiveness.'" "We will strive to satisfy both the operator and the patient by developing new products with comparable technology and disseminating safe and efficient implants with improved quality."